William Grant & Sons put its largest ever archive under the gavel to raise £100,409 for the hospitality industry. We auctioned more than 300 items to raise funds for The Drinks Trust and The BEN Scotland.
Items up for grabs ranged from rare and aged liquids for dedicated spirits connoisseurs to an exclusive hand-built Morgan motor car from The Balvenie.
Cocktail enthusiasts will be able to get their hands on bartending essentials, a Monkey Shoulder cocktail Konga Shaker, sets of Tullamore D.E.W. tumbler glasses, jiggers and Sailor Jerry cocktail shaker kits.
Those looking for a unique gift or an unforgettable experience bid on one-of-a-kind virtual and in-person behind-the-scenes experiences to exclusive, hidden rendezvous with esteemed malt masters and distillers.
Is gin your thing?
The curious Hendrick's Gin Palace opened its doors for the very first time to one lucky winner. You could bid to visit the Hendrick's Gin Palace in Scotland and meet Master Distiller Lesley Gracie.
Or get shoulder to shoulder with malt master David C. Stewart MBE at The Balvenie blending lab.
With the nation still embracing virtual interactions, a suite of online experiences was curated by award-winning brand ambassadors, giving unprecedented access to behind the scenes experiences from home.
There was truly something for everyone and collectors could court the unattainable, off-market items in a catalogue assembled from the archives of The Balvenie, Glenfiddich, Monkey Shoulder, Hendrick's Gin, Sailor Jerry, Tullamore D.E.W., Grant's, Drambuie, Ailsa Bay and Reyka Vodka.
All proceeds from the £5 registration to bid contributed to the auction donation total for The Drinks Trust and The BEN Scotland. Bidders also received a raffle entry to win an at-home cocktail party with the iconic Monkey Shoulder mixer truck.
Monkey Shoulder Mixer Truck Prize Draw
This was the chance to win top quality cocktails delivered to your front door, to shake up your socially distanced garden gatherings, served up directly from the Monkey Shoulder Mixer Truck.
The promotion was open to anyone who is a resident of the United Kingdom and is over the age of 18 years old. Entry opened midday 15 July 2020 and closed midnight 28 July 2020. To enter prize draw you had to make a valid bid for any item. Max one entry and prize per person.
Introduction
These are the Terms and Conditions for the Monkey Shoulder prize draw offering the chance to win top quality cocktails delivered to your front door, to shake up your socially distanced garden gatherings, served up directly from the Monkey Shoulder Mixer Truck.
These Terms and Conditions prevail in the event of any conflict or inconsistency with any other communications, including advertising or promotional materials. Entry and claim instructions are deemed to form part of the Terms and Conditions and by participating, all entrants will be deemed to have accepted and be bound by the Terms and Conditions. Please retain a copy for your information.
These Terms and Conditions (and any non-contractual issues which arise out of or in connection with them) will be governed by relevant local law with any disputes as to the meaning of these Terms and Conditions subject to the exclusive jurisdiction of the English and Welsh courts unless you live in Ireland or in another part of the UK, in which case your local courts will have jurisdiction.
What is the promotion?
The promotion is a prize draw to win the prize described below (the Promotion).
What is the Prize?
The Prize is for one winner and up to six guests (or as per government guidelines at the time) to receive two cocktails per person to be delivered to a location and on a date / time of the winner's choice (the Prize) subject to the restrictions below. There is one Prize in total for the entire Promotion.
Who can enter and what are the conditions of entry/prize allocation?
The Promotion is open to anyone who is a resident of the United Kingdom and is over the age of 18 years old only (proof of age may be requested).
The Prize is restricted to delivery at the following locations: - England and up to the Scottish Lowlands.
The Prize will be awarded subject to local council approval and restrictions
The prize can only be delivered before dusk
Employees of William Grant & Sons UK Limited (the Promoter), or any company within the same group of companies as the Promoter, and their immediate families, their agents or anyone professionally associated with the Promotion (Associates) are not allowed to enter.
Entrants who do not give correct details or those who make an entry on someone else's behalf will be disqualified, at the Promoter's discretion.
Entries (bulk or otherwise) made from trade, consumer groups or third parties will not be accepted. If it becomes apparent that a participant is reposting the same content multiple times or using a computer(s) to circumvent this condition by, for example, the use of 'script', 'brute force' or any other automated means, that person's entries will be disqualified and any prize award will be void.
Incomplete, illegible, invalid, misdirected or late entries will not be accepted. Proof of sending will not be accepted as proof of delivery. The Promoter takes no responsibility for entries delayed, incomplete or lost due to technical reasons or otherwise.
The winner's guests must also comply with these rules.
How to enter the Promotion?
Either register at Whisky.Auction (£5) and lodge a valid bid for any item or send your name and contact details to

[email protected]

quoting "Monkey Shoulder Mixer Truck Promotion 2020".
No purchase is necessary to enter the Promotion or to claim the Prize.
Only one entry per person is allowed.
Any third party entries, multiple entries or entries submitted by agents will not be accepted.
What's included and what's not included in the Prize?
The Prize includes:
The Monkey Shoulder mixer truck will deliver cocktails to the winner's address, parking outside if accessible, for up to approx. one hour, 30 minutes. Members of the private gathering will have three cocktails available to choose from, with orders taken and delivered to the door to avoid a crowd forming around the truck
The mixer truck will be playing music from the truck for a short time and at a reasonable level
All staff will be adhering to government safety guidelines in terms of protection clothing and sanitation
Security staff will be on site to manage any crowds which form from people nearby
Proof of ID will be requested on delivery if necessary
What is the closing date?
The closing date for entries is 23:59 on 28 July 2020 (UK time).
The Promoter's decision about whether an entry has been received in time will be final.
How will the winner be chosen?
All eligible entries will be entered into the prize draw. The winner of the Prize will be drawn at random by an independent judging organisation (whose decisions are final in all respects).
The draw will take place on 29 July 2020.
How will the winner be notified?
The winner will be the first name drawn.
The Promoter will use reasonable efforts to notify the winner by email before 23:59 on 7 August 2020.
The winner must respond to this email with their name, email address, postal address and age within 21 days or he/she will automatically be disqualified and another winner will be chosen, using the same methodology as above.
The prize is to be redeemed within two months of winning, if safe to do so, and in line with government guidelines.
The winner may be asked to confirm if there are any access issues that would prevent the mixer truck from arriving at or parking outside the winner's address. This process may be repeated as often as necessary.
It is the responsibility of the participant to check their email inbox (including, but not limited to, their junk / spam / clutter email inbox) to ensure they are in receipt of a notification. The Promoter is not responsible for an entrant making a late claim on their prize if this email is missed or not read/ responded to for any reason.
When will the winner be announced?
If required by a regulatory authority, and/or if we consider it lawful, necessary or appropriate to do so, we may elect to make available a list of winner's surname and/or county to members of the public or regulators who request such details within 3 months of the closing date of this Promotion. Entrants can object to disclosure, or request that disclosure be limited in scope by contacting

[email protected]

. We may nevertheless disclose the information to the Advertising Standards Authority if required to do so. You may request a copy of the winner's list by emailing

[email protected]

. We reserve the right to refuse any or all such requests.
Other stuff...
Post Promotion Publicity
The winner and the guest may be required to participate in reasonable publicity connected with the Promotion.
Substitution of Prize
Substitution or transfer of the Prize by the winner or winner's guest is not permitted.
No cash or other alternative prize will be provided in whole or in part, except that in the event of circumstances outside of its control the Promoter reserves the right to substitute a similar prize of equal or greater value. The prize is non-transferable.
If for any reason any aspect of this promotion is not capable of running as planned, including by reason of infection by computer virus, network failure, traffic congestion, bugs, tampering, unauthorised intervention, fraud, technical failures or any other cause beyond the control of the Promoter which corrupts or affects the administration, security, fairness, integrity or proper conduct of this promotion, the Promoter may in its sole discretion modify or suspend the promotion or invalidate any affected entries/claims. If an act, omission, event or circumstance occurs which is beyond the reasonable control of the Promoter and which prevents the Promoter from complying with these Terms and Conditions, the Promoter will not be liable for any failure to perform or delay in performing its obligation but will always endeavour to minimise the effect to participants in order to avoid undue disappointment.
Your Privacy
The Promoter will only use the personal details supplied for the administration of the promotion and for no other purpose, unless we have your consent. Your personal details will at all times be kept confidential and in accordance with current Data Protection legislation. Click here for the Promoter's Privacy Policy. You can request access to your personal data, or have any inaccuracies rectified, by sending an email to

[email protected]

. By participating in the Promotion, you agree to the use of your personal data as described here.
Brand Protection
The winner and winner's guest must not do anything which could, in the reasonable opinion of the Promoter, bring the Promoter or any of the Associates into disrepute before, during or after this promotion.
The Promoter reserves the right to refuse to award a prize or withdraw prize entitlement and/or refuse further participation in the promotion and disqualify the participant where there are reasonable grounds to believe there has been a breach of these Terms and Conditions, the spirit of the promotion, any instructions forming part of this promotion's entry requirements or otherwise where a participant has gained unfair advantage in participating or won using fraudulent means.
The Promoter and its associated agencies and companies will not be liable for any loss (including, without limitation, indirect, special or consequential loss or loss of profits), expense or damage which is suffered or sustained (whether or not arising from any person's negligence) in connection with this promotion or accepting or using the prize, except for any liability which cannot be excluded by law (including personal injury, death and fraud) in which case that liability is limited to the minimum allowable by law.
Promoter
The Promoter is William Grant & Sons UK Limited, Form One, 17 Bartley Wood Business Park, Bartley Way, Hook, RG27 9XA.
If any of these clauses should be determined to be illegal, invalid or otherwise unenforceable then it shall be severed and deleted from these Terms and Conditions and the remaining clauses shall survive and remain in full force and effect.
The Promoter's decision on all aspects of this promotion is final and no correspondence will be entered into.
The Promoter encourages responsible drinking and would direct consumers to read http://www.drinkaware.co.uk/ for more information.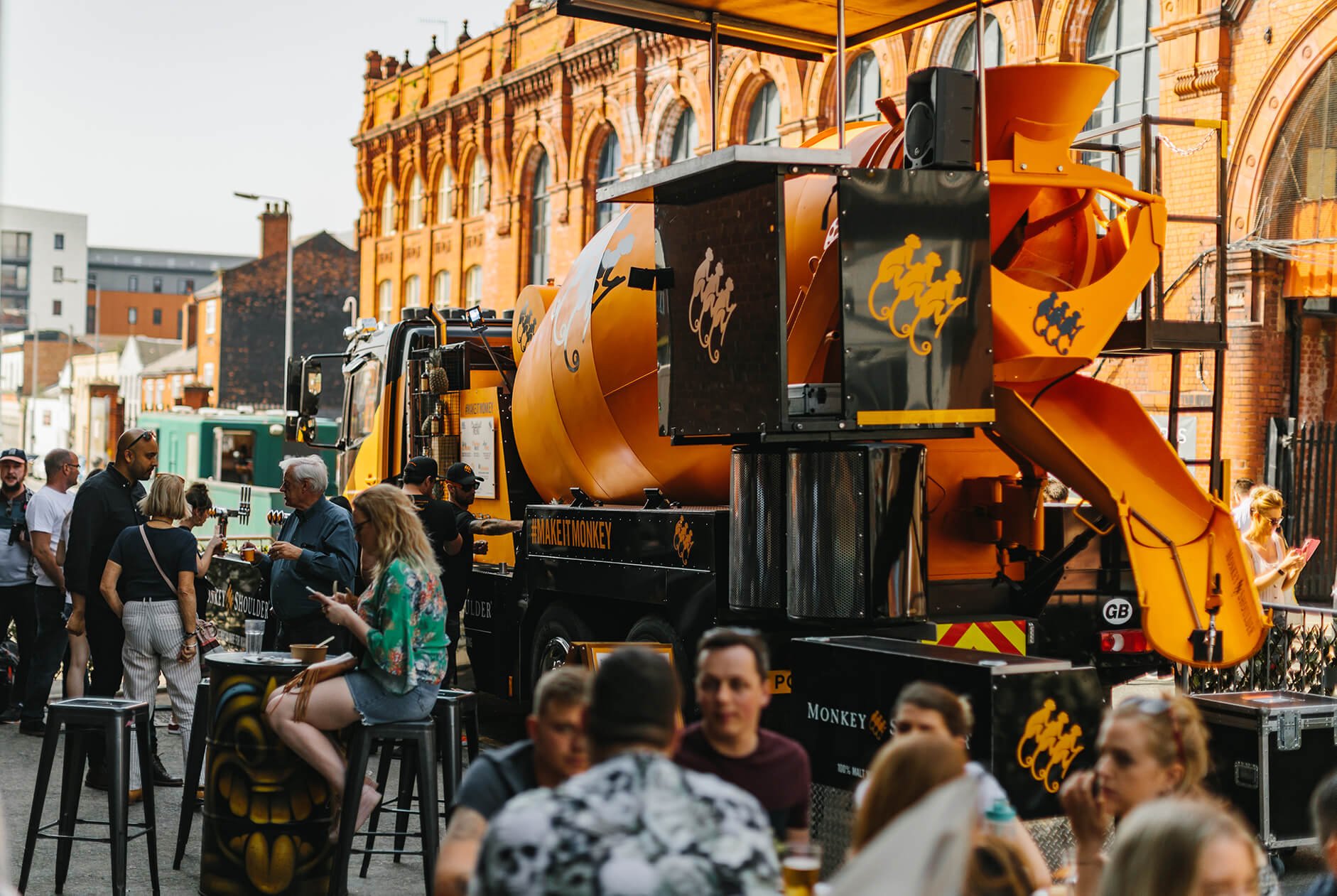 View the William Grant & Sons #STANDFAST Charity Auction results.
The Drinks Trust (Registered in England and Wales, charity number 1023376)
The Drinks Trust is the community organisation for the drinks industry, offering support and services to help its community thrive, to upskill, to broaden their knowledge, to network and learn from one another. It will also be there to support them in challenging times, with wellbeing and financial assistance.
The BEN Scotland (Benevolent Society Of The Licensed Trade Of Scotland, SC005604)
The BEN, under various guises, has been in operation since 1864. Offering financial, social and emotional support, The BEN has 10 Directors, from every section of the Trade, who work throughout Scotland and volunteer their time to help raise funds, manage the charity and support the delivery of services for beneficiaries. Although over 150 years old, The BEN's Strategy is to continue expanding its support across Scotland and ensure its services remain as relevant as ever to the licensed trade.